History and types of tattoos
What does the art of tattoo hide?
Even in the twentieth century the tattoo was considered as an attribute which has been extended among seamen and criminals. Now the situation has cardinally changed, almost a third part of young population dreams to make a tattoo. Thus, they try to pay a tribute to fashion and to seem modern in a circle of friends.
Tattoo art exists for many centuries. Among the natives of wild islands tattoos had ritual character. And on the contrary it was not accepted to make a tattoo among pagans. Some people think that modern tattoos, involves new values. Sometimes such hobby reaches to point of irrationality. Nowadays everybody make tattoos starting from children and finishing the pensioners.
Tattoo masters say that there are more of those who want to make a tattoo, rather than those who would like from it to get rid. Young men who are under the influence of fashion, after a couple of years come to the salon with the begging request to get rid of the picture. Of course, the removal procedure of a tattoo costs much more expensive, than to make it. You can remove your picture by plastic operation or laser surgery. But even such methods leave scars on skin.
Such a raised desire to decorate your body with a picture is only a whim which sooner or later becomes irrelevant and unreliable. And only a nonprofessionally made tattoo remains an incorrigible stain on your body for ever.
Tattoo history
The tattoo represents a special kind of a taboo that are widely presented in the world, on the same level with other traditions, like covering the body with small hems making it to look like crocodile skin, flattening breasts at young girls, or stretching necks with wire rings etc. Actually, the tattoo is certain picture that usually has its own sense, made by injection of color paint under the skin.
The word "tattoo" has been brought by notorious D.Cook who called like that the pictures on the bodies of natives, in his travel report. But it does not mean that tattoo appeared at this time; tattoo existed long time ago, at ancient nationalities. We can find tattoo traces on the mummies concerning by the B.C. period and it often covered almost the whole body.
If military men made tattoo mainly to leave the memory about their service, to brighten up pastime, to prove that they are men etc., prison tattoo patterns have turned to difficult language that was clear only to the devoted. There is no doubt in the gravity of this body language, because the pleasant pictures made by nonsense, without understanding their sense, can lead to death, prisoners piously honor their traditions. In prison they define on the tattoo, where the person came from, in what prison he used to stay and what is his crime, the person's status and other data can also be established in a tattoo.
Because of all this for a long time the tattoos were considered as something shameful and forbidden, and they looked scary – usually made with dark blue ink, with the smeared edges, and frequently the infection was brought in blood. But gradually the situation started to change, in the world's fashion came not only the tattoos, but also scaring, and implantation of "horns" and "thorns", and other crazy things maybe that is why the tattoo is the most harmless display of beauty.
There is an interesting fact, that female tattoos began to be a usual thing not a long time ago, before that it was considered that tattoos were usually made by prostitutes or gangsters.
Versions of tattoos
Constant flower tattoos are made for ever, that is why quality paint is used for them, it allows the tattoo not to blur and to keep brightness. Patterns for constant flower tattoos can be as black white, and color, the main thing is to provide a good pigment.
For temporary tattoos is basically used henna, the paint is not injected under the skin. The temporary henna image is created on the skin surface. Such temporary tattoo exists for about one month.
Cosmetic tattoos are basically female tattoos; with their help it is possible to disguise specks on the skin, to paint the skin on lips, to make eye underline effect etc.
Currently many people who are taking a great interest in tattoos, feel allocated, isolated that forces them to create the communities where they find each other, communicate, tell about their hobby, about the sites of the best tattoo salons, best masters and patterns.
Both male, and female tattoos are subdivided into subspecies, we mean patterns for tattoo. We can allocate the following: Sugary kittens, butterflies, bees, heroes of cartoons.
Pictures and Photos: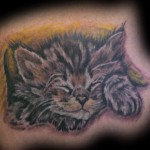 – Terrible images of animals and birds – eagles, tigers and so forth:
– Inscriptions in different languages: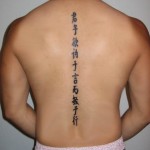 – Ornamental bracelets, bandages etc:
– Plant motives – flowers, leaves and so forth: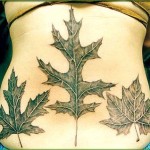 – The hieroglyphs, everyone with its own sense:
– Abstractions, patterns from triangles, crossed lines etc.:
– Symbolic – pentagrams, swastika, various protective symbols and talismans:
– Images of different people:
– Sea objects – seamen, mermaids, fantastic water creatures, ships, etc:
– Playing cards etc.: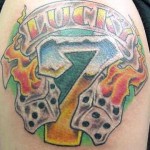 Before to make a male or female flower tattoo, carefully look through the catalogues, remember, if you do it for the whole life, then for long term, that is why choose a picture from which you won't get tired in a couple of weeks.
There is an interesting fact that Greg Mclaren has more tattoos than everybody, because of them he lost the natural color of his skin, almost each slice of his skin is tattooed, and not even once.
Any beauty can decorate her unique body with a wonderful flower tattoo! This small masterpiece, undoubtedly, will please both the girl and her lover. The most popular tattoos among the female tattoos are: flower images, the images of animals, Celtic style ornaments in the form of bracelets etc.